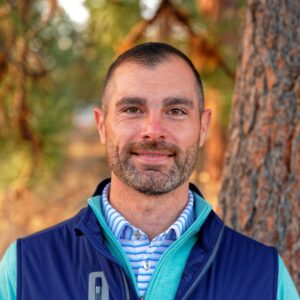 Awbrey Glen Golf Club is pleased to announce the John Metzinger as our New Head Professional. Originally from Youngstown, Ohio, John graduated from Youngstown State University with a degree in Business. First entering the golf business in 2007, he became the 1st Assistant Golf Professional at Tippecanoe Country Club in Canfield, Ohio, where he earned Class A membership in the PGA of America in 2010. Eventually transitioning to Naples, Florida in 2013 to advance his career, John was the seasonal Assistant Golf Professional at Imperial Golf Club. Once settled full time in SW Florida, John became the 1st Assistant Golf Professional at Kensington Golf & Country Club.
John has shown his desire to continue his professional growth and is Level 2 Certified with the Titleist Performance Institute (TPI). TPI is the world's leading educational organization dedicated to the study of how the human body functions in relation to the golf swing.
John met his wife Holly in Naples, they married in April of 2019 and welcomed daughter Emma in 2020. John and his family are beyond excited their next adventure in Bend, Oregon and becoming part of the Awbrey Glen family!
John is the first external Head Professional hired at Awbrey Glen since 1998.
Awbrey Glen Golf Club offers exceptional golf, dining and social activities for members and guests, as well as weddings and events.
About Awbrey Glen Golf Club
Awbrey Glen Golf Club is nestled into the historic pines of Bend's west side. Membership includes unlimited golf on their 18-hole championship golf course which plays from 4,800 yards to over 7,000 yards. The course appeals to all types of golfers: young and old, expert and beginner, families and retirees. The Golf Learning Center, one of the finest practice facilities in the state, includes a unique 5-hole, par 3 course. As Awbrey Glen members say, "Come for the Golf, Stay for the Friendships."
For membership information, contact Barbara Malcolm, Membership Director, at 541-385-6011 or visit awbreyglen.com.