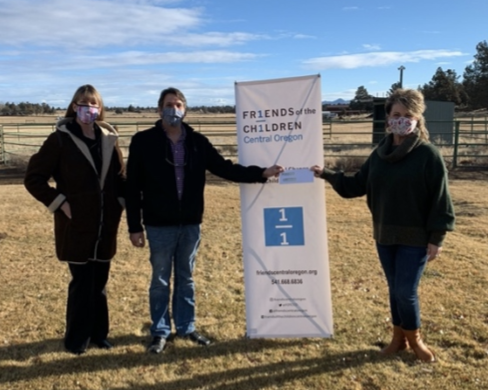 Bend, OR – Friends of the Children Central Oregon (Friends-CO) is pleased to announce a charitable contribution in the amount of $10,000 from partners Fortis Construction and Facebook to support the capital campaign for The Ranch – a Sanctuary for Friends. This donation follows the long-term commitment by both companies to support organizations benefiting children and families in Central Oregon.
"Much like mentors developing relationships with children, one of our core values at Fortis Construction is developing relationships with people we respect, trust, and care about," said Ann Fisher, Office Manager for Fortis Construction in Prineville. "We also believe in being intentional and teaching someone something new every day. This is exactly what Friends of the Children Central Oregon does; they create intentional, lasting relationships with youth and help them build assets and resiliency through the mentoring experience. It is such a great fit, and we are excited to support this capital campaign."
The Ranch is a centrally located property, easily accessible from Highways 20 and 97 and, therefore, easily accessible from rural areas in Central Oregon. There is room for offices, a commercial kitchen, space to create a STEM Lab, and multipurpose areas for playing games, reading, and doing homework. There is also outdoor space for gardening, raising animals, and exploring nature. The $10,000 donation will be instrumental in helping the Friends of the Children purchase the 19-acre property and provide quality STEM education to local children.