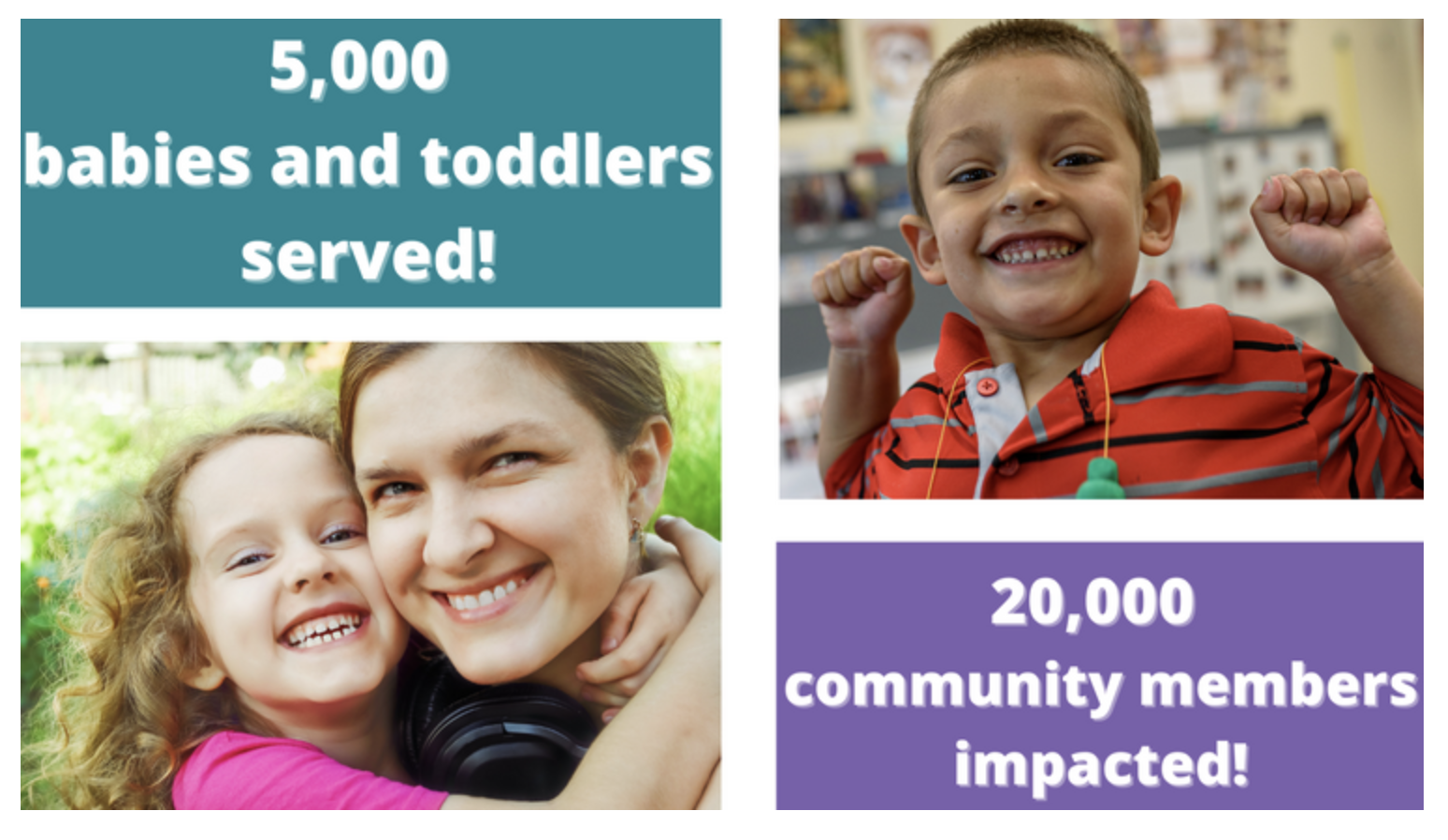 We are celebrating our 20th year of services to Central Oregon families! Launching services in 2001, MountainStar now has programs in Bend, Redmond, Madras, Prineville, and La Pine. MountainStar would like to expresses our gratitude to the many staff, board members, volunteers, donors that have provided critical support to serve the vulnerable babies and toddlers across our community.  
Since 2001, MountainStar has served 5,000 babies and toddlers and directly impacted the lives of over 20,000 community members. We have provided over 15,000 home visits supporting each family's immediate needs and ensuring their babies and toddlers are in a safe environment. During the last twenty years, MountainStar has consistently kept 98.4% of children in our program safe from confirmed cases of abuse and neglect.
To celebrate our anniversary and recognize the profound impact on local babies and toddlers, an anonymous donor has provided a $5,000 matching gift recognizing the 5,000 children served. Donations at any level are eligible for this match. The matching gift is available through March 12.
Throughout this year, MountainStar will engage its many supporters to share their stories and hopes for the children and families we serve. MountainStar's 20th Anniversary is a testament to the dedication of our community to prevent child abuse and ensure that our community's children are supported in their emotional, physical, and intellectual development. "I sincerely appreciate the generosity of our community and the commitment to child abuse prevention. Supporting vulnerable families and working with the dedicated early learning professionals across our community has been my personal honor as executive director of MountainStar for the last nineteen years. I am excited to celebrate what we have accomplished together, but even more excited about where we go from here, because as we all know when it comes to early childhood – every day counts, and everyone matters," says Tim Rusk, Executive Director.
Join us – make a gift to support the next 20 years at MountainStar! We have seen exponential growth over the past 20 years. With your help, we can continue this trend and help thousands of babies and toddlers in our community for many years to come.  Donate HERE