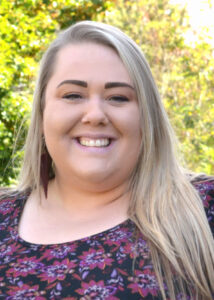 Eliza Allee Wilson has lived in Central Oregon for the past 17 years. She has spent her career working with a variety of homeless services providers in Central Oregon and has been with J Bar J Youth Services for the past 5 years.  
Having experienced homelessness as a child, Eliza became a client of J Bar J's Cascade Youth & Family Center LOFT program, when she was a teen. Her experience as an advocate for homeless services started while she was living at The LOFT and has given her the opportunity to speak locally, in state government and nationally about her experience as a homeless youth. Eliza's lived experience gives her a unique perspective in her work as Program Manager of Grandmas House of Central Oregon. 
Throughout her career, Eliza has worked with adults, veterans, families and youth who are experiencing homelessness. She particularly loves working with young people because of their resilience and potential. She believes our young people can and will escape multigenerational poverty if they are given the support and resources to succeed. Eliza serves as board member on the Homeless Leadership Coalition and as Chair of the Coordinated Entry Committee.  
Eliza loves to cook for family and enjoys a good book, especially historical fiction. She and her husband have three children and enjoy traveling together.  
Grandma's House is a program of J Bar J Youth Services, and provides shelter and support for pregnant and parenting, homeless or abused girls. J Bar J operates several programs in Central Oregon helping youth and families grow toward independence and self-sufficiency.