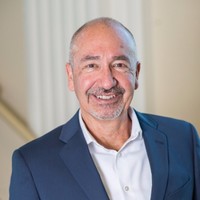 Bend is a city that has a personality all its own and is driven forward by countless people who step up, give of their time, and propel us toward making our city the best it can be. The Bend Chamber would like to recognize and celebrate one of those individuals: Vic Martinez. 
Vic just happens to be celebrating his transition into retirement, which is a noteworthy life milestone in itself. Congratulations, Vic! We wish you all the best in this next phase of your story!
There's also a great backstory to Vic and how he's approached his volunteerism and service to the community. It wasn't so much that a family member or mentor led Vic to the epiphany of wanting to give back – "It was always kind of there within me and I think it's in most people and the opportunities to have it rise up come at different points for different individuals." 
In the late 1990's and early 2000's, Vic got involved with non-profits and ended up being on the board of directors for Boys and Girls Clubs of Central Oregon for nearly six years. During that time on the board, and through contact with local businesses for fundraising, he began to see the connection between businesses, non-profits and the compounded positive impact on the betterment of the community. 
"I raised my boys here. This is my community. It's been good to us and I know there's an underlying caring that I've had the opportunity to be aligned with along with a lot of the people of I've worked with," says Vic. 
His involvement as a team member at Opportunity Knocks for 18 years and serving on their board for five really invigorated him about Bend and the business community. It was the collaborative spirit — even among competitors — and realizing we're "all in this together" that was the key driver for him to continue to give back to the community through the Bend Chamber, where he served on the board for seven years and was the board chair in 2019. 
"Vic was an active leader and so engaged in how the Chamber contributes to making Bend someplace where businesses and the people who work for them can thrive," said Katy Brooks, Bend Chamber CEO.
Fellow Chamber board member and Vice President of Human Resources at St. Charles Health System, Rebecca Berry, shared, "Vic has such a great heart and passion for our business community and its members. He is a thoughtful person and has shown over and over that he is committed to doing the right thing our community. I have enjoyed the opportunity serving with him on the Board."
Scott Wallace, President of The Wallace Group and past board chair of the Bend Chamber, says that "Vic epitomizes the get-it-done attitude and has helped the community. He also recognized the value of a variety of perspectives at the table."
Vic's resume of community service spans two decades and includes being on the board of Bend 2030 for nearly six years and chairing the board for two years, as well as being heavily involved with Rotary Club of Greater Bend. But there's another aspect to Vic's service — helping and supporting kids. 
"Being active with my kids and seeing some of the opportunities they were given and noticing that a lot of kids don't have those same type of opportunities, kind of lured me into another area of service with kids," says Vic. He was a Court Appointed Special Advocate (CASA) serving foster kids for nearly seven years and it proved to be an eye opening and fulfilling experience as he advocated for them during their journey through the system. 
He's a great example to follow for those who feel they're "unqualified" or "underqualified" to get involved in the community — "Don't hesitate and don't think you're not qualified. I certainly was not qualified when I stepped into that arena. It opened up opportunities that I did not ever believe were available to me and showed me the breadth of people's character, and this type of service fed me."  
That's great advice from someone who walks the talk when it comes to giving back and serving your community. With all sincerity and highest regard — thank you, Vic.