Leader in autonomous drone delivery welcomes Mike to the executive leadership team to shape culture and lead recruiting efforts for top industry talent.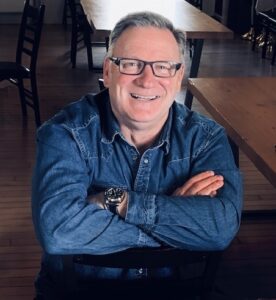 Volansi, the leader in autonomous vertical take-off and landing (VTOL) point-to-point drone delivery services, today announced the appointment of Senior Vice President of People Mike Guerchon. Mike will lead human resource efforts to build dynamic teams of high-performing people and shape the culture of the rapidly growing company to reach its maximum organizational potential.
"We are so excited to have Mike join the Volansi team. Mike's hire comes at a crucial point for our business as we've grown our operations significantly. Mike's leadership will help us refine our talent management process and continue to build an engaged, inclusive, and high-performing culture," said Volansi co-Founder and CEO Hannan Parvizian. "His passion for people and nearly three decades of leadership experience will be invaluable as further our commitment to putting people first and creating a world-class organization."

As an accomplished human resource and workplace executive leader, Mike has more than 25 years of experience in both ground level start-ups and global public companies. Throughout his career, he has focused on building dynamic teams of high-performing people and shaping the culture of the rapidly growing worldwide organization and the long-term growth of the company.
"I couldn't be more thrilled to be joining Volansi in the midst of this tremendous growth trajectory. I was attracted to the company by its outstanding culture and the leadership team's commitment to its people," said Volansi Senior Vice President of People Mike Guerchon." The company is at a unique point and I am energized and honored to help shape the future of Volansi."
Prior to joining Volansi, Mike was the vice president of human resources at RealWear, a knowledge transfer company that provides software and hardware to help people improve safety and increase productivity at work. Mike has led organizational transformations in recruiting, leadership development, training, employee relations, compensation, performance management, and engagement. As chief human resource officer at Riverbed Technology, Mike helped lead the organization through its IPO and rapid growth in revenue from $2 million to $1.2 billion and employees, rising from 60 to 2,800. Additionally, under his command, the company was recognized in 2014 as #4 in the world in Glassdoors's rating of "Culture and Values" and in the top 20 worldwide for 2013 and 2014 of "Best Place to Work."